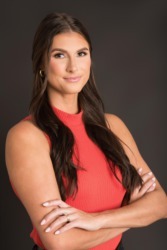 Erika is a very charming individual who comes from a unique background. Originally from Thomasville, Georgia, she became an All-American college softball player and later an elementary school teacher for several years. Now, she has decided to switch careers and pursue her path as a real estate agent!
Erika is dedicated to helping
you find your dream home. Her experiences have ingrained in her the value of hard work and taught her the importance of listening to people and understanding their unique needs. Her warm energy and Southern Charm will make her a pleasure to work with when buying your next home!