13 Things To Do With Your Pets This Summer
Posted by Erik Hansen on Wednesday, July 14, 2021 at 11:11 AM
By Erik Hansen / July 14, 2021
Comment
While you and your family may have settled down and found the right neighborhood to live in, there is a point in time when you just need to relax and have fun. The summer season is the ideal time to pursue fun activities. The kids are out of school, and you and your spouse are getting a break from work, but what about your beloved pets this summer? Shouldn't they have fun too?
Whether you own a cat or dog (or both) in your home, there are many things you can do to keep your furry friend active and stimulated throughout the summer. You may want to try some new things this summer so that you create some lasting memories with your pets. Here are some ideas for activities you can do with your pets in the summer season.
1) Morning Run
Summer mornings are some of the best mornings to go out for a run with your faithful companion. In the afternoons it tends to get too hot to have an enjoyable jog around your neighborhood or park. This early morning exercise is very stimulating for dogs as they will want to keep up with you while jogging. Alternatively, if jogging doesn't fit your style, you can ride a bicycle. Your dog will still keep up with you even on wheels.
2) Car Ride
You may not always have a destination in mind when you go out for a drive, but that is totally fine! Your dog won't mind where you go for a ride! It is a known fact that many dogs love sticking their heads out of car windows so they can feel the wind blow against their ears. This is especially true if you happen to own a dog breed like a dachshund! Here is a little secret; Some cats enjoy car rides too! Particularly if you have outdoor cats, they will sometimes hop into your car and want to ride with you!
3) Go Camping
Camping is considered to be a go-to activity for the family in the summer. Pets will also appreciate the change of scenery to a camping site as well. Going to a remote location and setting up camp in the wilderness for a couple days is a good change of pace for the whole family. Your pets are often curious and they have adventurous personalities. They get a kick out of exploring new sights, sounds and smells. If you love pets, why wouldn't you spend a night around the campfire and have your furry friend enjoy it with you?
4) Hometown Tour
Perhaps you are not an avid traveler? You don't need to go far to go exploring. It is amazing what you can discover by taking a tour right through your hometown! Put your pets on leashes or place them inside a travel backpack and walk through the various streets of your city. You can stop by monuments, historic places, wooded areas that may lead to a park. This would be a good learning experience for the family while the pets get to enjoy a change in scenery.

5) Go Geocaching
One of the most creative activities to do in the summer is to go out on a treasure hunt. This is certainly the case for people, but this is also true for bold canine explorers. If you are familiar with geocaching, then you know how creative and intricate a treasure hunt can be. Geocaching is where people tuck away small treasures in remote places for others to search and find. The exact coordinates of the treasure are logged online, available for other treasure hunters to find. These can be seen with your smartphone with the help of the Geocaching App. Your dog will be thrilled to find something special in the great outdoors!
6) Obstacle Course
If you are not in the mood to travel anywhere during the summer but want to enjoy the nice weather the season provides, then set up an obstacle course in your backyard. You can be as creative as you want when designing this obstacle course. You can make this exclusive to just pets, or you can make this course accessible for kids as well. Hula hoops, tires, cones, and wooden plank ramps are just some of the things that can serve as obstacles for your pet to navigate through. It is both fun and rewarding for your pet as they learn to obey commands and solve puzzles while receiving a delicious treat.
7) Try Outdoor Sports
There is more to getting daily exercise in the summer than just walking! Tossing a frisbee around, roller skating or blading, or going on a steep hike all count as outdoor sporting activities. While dogs love normal daily routines of play and exercise, they also don't mind you changing things up a bit. Hiking is not exactly the same as a walk in the park. Hiking will introduce your dog to new locations that will present new challenges for them. Having to hurdle over rocks and logs, your dog will use muscles and parts of its body that are not typically used.
8) Pool and BBQ Party
Most dogs love to swim in the water, and they especially love to go swimming during the summer. Get out a special paddling pool and invite friends over for a party where they can bring their dogs over too. Get the barbecue grill going so that you and your friends can enjoy a hot summer day. The dogs will appreciate the leftover scraps of barbecue meat! Having a pool and barbecue party is a great way to get your dog to socialize with other dogs if it is your only pet.
9) Create a Custom Cat Screen Door
Your favorite feline friend doesn't like to feel isolated inside the house all day, especially during the summer! One way to remedy this issue is to create a screen door that is tailored to your cat's needs. Cats are often curious animals, and they will look out the window to watch for wild birds. How about you provide your cat a more up-close look at the outdoor scenery? It is recommended that you get a pet-proof screen so that it will not be so easy for your cat to scratch and claw through it. Don't let your indoor cat make a jailbreak escape!
10) Cut Long Hair
Both cats and dogs can get very furry and shaggy as their coats change for the season. To the point that it becomes detrimental to their health during the hot summer days. The feeling of wearing a heavy fur coat during the summer can't be a good feeling! Without your help, your furry friend may struggle to stay cool in the summer. Schedule a summer haircut, but avoid completely shaving your pet. Bald spots must not be made either since these can be vulnerable to getting sunburned. Your long-haired friend will thank you for the haircut.
11) Make a Sprinkler/Misting Zone
If you don't have access to a pool, then there is an alternative way to keep your pet cool during the summer. A sprinkler system set up in your backyard can entice a dog to interact with it. Some dogs are known to drink straight out of the sprinklers! When it comes to cats, they will sometimes enjoy a misting zone set up inside the house. If you have a cat with dark-colored fur, then that fur will attract more heat in the summer compared to light-colored fur. This misting zone can be as simple as spraying water out of a bottle in front of a fan.
12) Go to the Beach
If you happen to live close to the ocean, then going to the beach with your dog would be a great alternative spot instead of the local park. There are times during a summer day where the beach will get filled with people (and other dogs for that matter…), so choose a time when the beach isn't at full capacity to have a fun, open walk. Bring your dog's favorite toy along or find a stick on the beach to play fetch with your companion. If your dog loves to swim in the water, then let them jump into the ocean shores for a quick swimming session.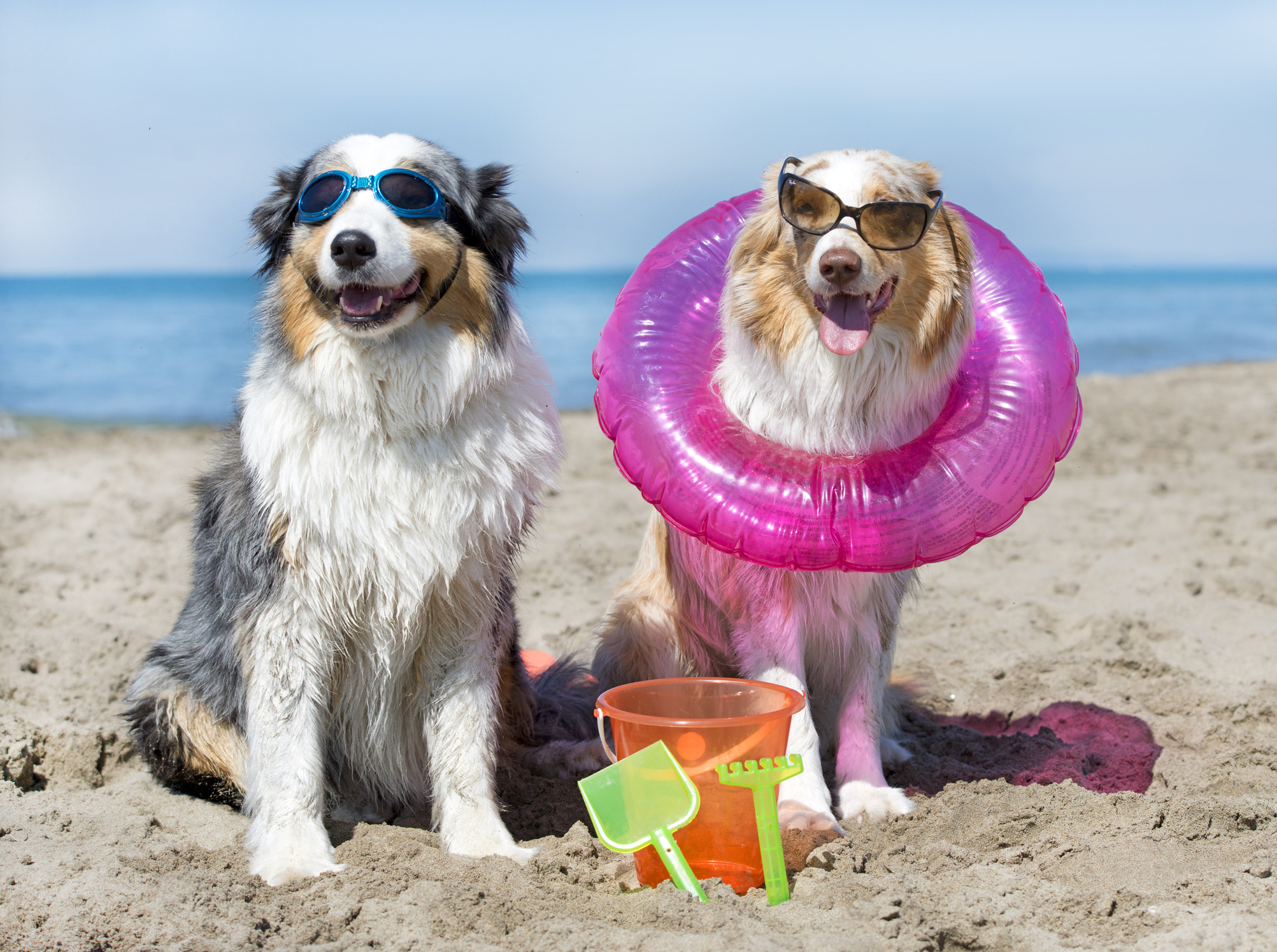 13) Make Frozen Treats
People love to eat frozen treats on a hot summer day. But did you know that cats and dogs love to indulge in frozen treats as well? You may prefer particular ice cream or popsicle brands, but don't be surprised if your cat or dog hovers over your shoulder wanting a bite! However, not all frozen treats that are safe for people to eat are safe for pets to eat. Come up with a tasty ice cream or popsicle recipe that is pet-safe and offer your pet this custom snack! For example, there is a recipe for peanut butter pupsicles that your dog will enjoy!
Conclusion
Pets can easily get hot during the summer season, so it is ideal to provide your pets as much comfort as possible. Whether that be an engaging activity that requires some physical exercise, or just a casual event you throw to keep your furry friend stimulated, it is best to create a positive summer environment around your pets. While staying cool and beating the heat, having fun with your pets this summer season is both easy and rewarding for the whole family. Feel free to check out some of our neighborhood spotlight posts for ideas on what to do in your area.