8 Reasons People Choose the Cottonwood Community
Posted by Erik Hansen on Tuesday, March 23, 2021 at 9:17 AM
By Erik Hansen / March 23, 2021
Comment
Do you know why people love the Cottonwood Community so much? Picture this... You're making sandwiches on your kitchen island. You watch your children play tag on your lush lawn through your living room French doors. Sunshine pours into your open living space. Your children take a break and sprawl under the shade of a mature oak tree. This is exactly where you want to be, in your very own slice of serenity.

This is just a glimpse into what the Cottonwood Community has to offer. Here are eight more reasons why the Cottonwood Community is the first choice of many Santa Rosa County residents.
Family-Friendly, Neighborly Atmosphere
If you're looking for a place to raise your family, look no further. The Cottonwood Community is built to raise happy families, and designed to nurture them in a dependable community.
Comfort, Space, and Amenities
Your family will be comfortable through all sorts of weather in this modern community. The new construction homes are move-in ready; they have all the style and comfort you need.
Our pristine homes are energy-efficient and easy to maintain. Each home is equipped with eco-friendly appliances, insulation, heating, and cooling. Keep your home cozy or cool year-round with its brand-new windows, HVAC systems, and gas fireplaces.
Each community home is built on a three-quarter or half-acre lot—that's more than enough space for you to grill and chill while your kids splash in your pool or play catch. There's ample space for you to park your vehicles in their deep driveways, leaving you plenty of room to set up your workshop in the two and three-car garages.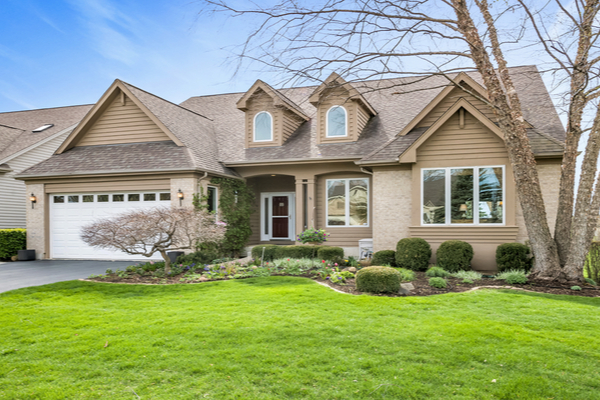 There's enough room for everyone to grow inside each Cottonwood Community home. The homes are built with a minimum of three bedrooms and two bathrooms and a maximum of five bedrooms and four bathrooms.
You'll never hear your kids fighting for space with the double-sink vanities, large bedrooms, and open-concept living areas. What's more, the Cottonwood Community—and the vast lawns—happily welcome your furry companions.
We also offer a wealth of neighborhood amenities, like easy online payment portals, a community pond, streetlights, and underground utilities. You would be surprised—despite the spaciousness of the homes and lots, your neighbors are still able to maintain a close-knit feel with recurring community engagement events.
Community Events and Involvement
There's always something fun happening at the Cottonwood Community; here there is no shortage of neighborhood social events like yard sales, ice cream socials, food trucks, holiday celebrations, and block parties.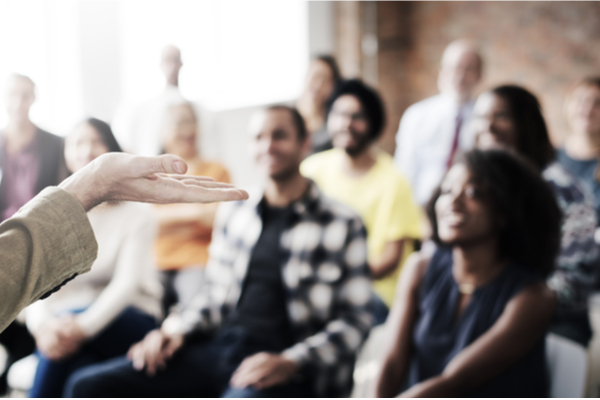 If you want to participate in the upkeep of your community you can attend the Homeowner's Association meetings! The community holds and documents monthly meetings where proactive members gather to discuss and vote on communal issues. These include fixing community items light streetlights or cleaning up storm waste. They also define development initiatives and spend the annual neighborhood budget to improve the area. If there are any safety concerns, they will come up with solutions at these meetings as well.
It's easy to stay up-to-date on all the latest happenings with the Cottonwood Community newsletters. The neighbors are also active participants on their Facebook and Nextdoor groups.
At the Cottonwood Community, we do everything we can to create an inclusive environment that you are proud to live in. We strive to encourage an atmosphere where you can work with your neighbors to create an environment where your children can grow, learn, and make lifetime friends.
Proximity to Great Schools
Speaking of friendship and learning, have you heard of the amazing schools in the area? The Cottonwood Communities are close to several noteworthy schools from Pre-K to college. Check out this extensive list of nearby schools!
Preschool
Berryhill Childcare
Berryhill Childcare serves your family with early childhood education and free Voluntary Pre-Kindergarten (VPK). In addition to caring for your little ones, Berryhill also offers enriching summer camps and afterschool programs for children up to 12 years old.
Capstone Academy Milton
In addition to early childhood education and VPK, Capstone serves your family with a variety of therapeutic services, like speech, occupational, physical, and food aversion programs.
Elementary School
The elementary schools of the area are blessed with caring, professional teachers and highly involved parents. The parents, teachers, and administrators of the Santa Rosa County school district work hard to foster creativity, growth, and achievement. The elementary schools in the area are Bennett C. Russel, East Milton, Pea Ridge and Dixon Primary.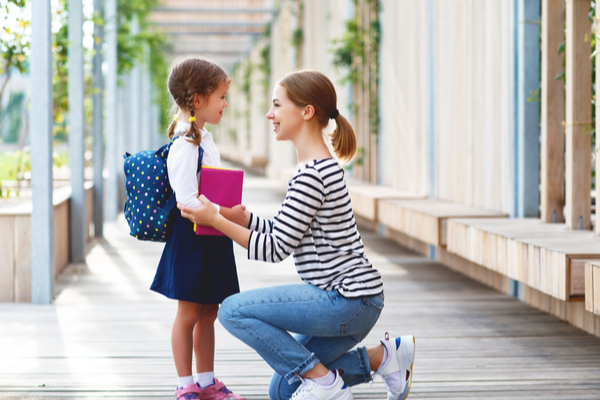 Middle School
The middle schools of the area are dedicated to developing excellence in character and knowledge to prepare our children to become confident young adults and lifelong learners. The Cottonwood Community is lucky to have the following middle schools nearby:
Avalon
Gulf Breeze
Holly-Navarre
King
Santa Rosa Online
King
Sims
Woodlawn Beach
High School
The Cottonwood Community is home to a variety of high schools aiming to prepare our children for success in adulthood with superior education, diverse experiences, real-world knowledge. There are many high schools in the area including Central, Gulf Breeze, Pace, Milton, Navarre and online options.
College
Cottonwood Community residents feel lucky to have so many educational opportunities right outside their neighborhood. Whether your children stay home or live on campus, they'll never be too far from home. Some of the nearby colleges on the west side of our sunshine state include Florida State University College of Medicine, University of West Florida College of Business, University College Pensacola and Pensacola State College.
Fortunately for Cottonwood Community residents, Pensacola State College has multiple campuses spanning the area. You and your children can choose from their Century, Milton, Downtown, and Warrington campuses.
Education is an important part of this community, and we are fortunate to have so much opportunity within the vicinity. When your children are grown and ready to move on, they'll have no problem finding employment opportunities with the several major West Florida employers.
Proximity to Major Employers
The Pensacola area is home to a variety of monumental employers. The Cottonwood residents come from a variety of professional backgrounds and work for companies like Baptist Health Care, Gulf Power Company, Santa Rosa Medical Center, iGate and more. Additionally, there are many military contractor opportunities thanks to the proximity to the nearby military bases. If you're a hard worker or busy bee like their residents, you'll fit in just fine in the Cottonwood neighborhood.
Safety and Security
After a long day of school and work, home is your place of solitude and retreat. The Cottonwood Community prides itself on being a gorgeous rural haven for our busy city-folk. Safety is the top priority with their residents and make no compromises or exceptions.
The Cottonwood Community ensures all neighbors receive the security and relaxation they deserve. This gated community is nestled privately among mature trees and foliage to keep passerbys from looking in. We maintain two private points of entry and exit, streetlights, and neighborhood watch campaigns so you don't have to feel vulnerable in your neighborhood.
In addition to taking the utmost precaution for your safety, the community members are proactive in maintaining programs like safe traffic and pet policies. Rest assured you'll be safe in your home and around your community.
Beauty Inside and Out
The Cottonwood Community's durable homes are built to last and never go out of style. The exterior architecture features a modern brick design, large windows with decorative shutters, accent dormer windows, stately arches, and impeccably manicured lawns and gardens.

Each home is nestled within a gorgeous neighborhood polished with mature oak trees, vibrant palm trees, and elegant magnolias. Cottonwood homeowners love the contemporary interior packages. Homeowners love the base and upgrade style amenities like:
Open-concept living areas
Granite counters
Soft-close cabinets
Stainless steel appliances
Wall ovens
Kitchen islands
Soaring ceilings
Crown molding
Hardwood and tile floors
Garden tubs
Double-sink vanities
As you can see, the Cottonwood Community has so much to offer its neighbors. But when you're ready to leave your homely paradise for a while, we are close to many desirable city attractions.
Close to the City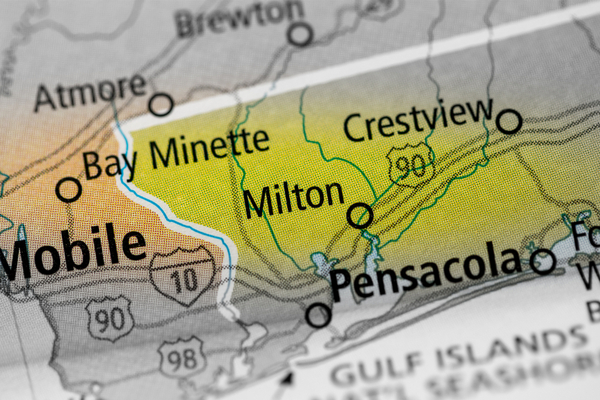 The Cottonwood Community is close to many city attractions that cater to your family's health and entertainment needs. Located in Milton, you are a few minutes from Pensacola. You are also close to the Alabama border, making it a great location. Check the list below for a glimpse into the many popular offices and businesses that surround the community.
Healthcare and Dentistry
Healthcare facilities in the area include the Santa Rosa Medical Center, Pensacola Pediatrics, Pensacola Primary Care and Milton Health Care Offices. For Dental practices, there is Comprehensive Dental Center, Webster Family Dentistry and others that are further away.
Entertainment and Recreation
There are many opportunities for entertainment and recreation in the area. The closest source of entertainment is the Tanglewood Golf and Country Club. In fact, the HOA meeting for Cottonwood Community is in their community center. Other recreation options include the Milton community center, the Milton library, Steve Morgan Skate Park and more. Not to mention, the Northwest Florida area is home to some of the most beautiful beaches in the country. Within just a few miles, you can enjoy white sand beaches and the bright blue ocean.
Affordability
The Cottonwood Community is a place of rural respite, dazzling style, and modern luxury.
With all these remarkable features, you'll be pleased to know these homes are incredibly affordable given their modernity and location. The Cottonwood Community homes are available for purchase from the high $200,000s to high $400,000s.
Become a Neighbor Today
Our new-construction homes are popular and won't be available forever. Be the first to enjoy the comforts the new homes have to offer for you and your family.
If you would like to move to the Cottonwood community, contact The Hansen Team! We specialize in the Pensacola and Northwest Florida area. Our team would be happy to help you find the perfect home for your family, whether if it's in the Cottonwood Community or another home in the area.