Cordova Park: The Neighborhood Today
Posted by Erik Hansen on Friday, February 12, 2021 at 11:47 AM
By Erik Hansen / February 12, 2021
Comment
Cordova Park is a neighborhood in southeast Pensacola, Florida. The history of this neighborhood goes way back to the beginning of Pensacola. But, today, the neighborhood has a bustling community that many people call home. In this blog post, we discuss the neighborhood today and the amenities residents enjoy. First, let's cover the neighborhood's rich history.
The History of Cordova Park
The land that is now Cordova Park was once Henry Gerhardt Sophus Baars' property. Baars was a veteran who once worked at a British lumber firm. He eventually quit his job at this firm to start his own Pensacola firm. This catapulted him into success, hence why he owned so much land. 6,000 acres to be exact.
The Baars' driveway was what we know today as the Tree Tunnel. This family is likely behind the name Cordova Park because they named their mansion Cordova Towers. For more background on this family, we go far more in-depth in our blog post with the title, "Cordova Park Pensacola History". The history of this family's property leads us to what Cordova Park is like today.
Cordova Park Today
Despite its history of being a wealthy family's property, Cordova Park turned out to be a friendly, small-town neighborhood for the middle-class society. Most of the neighborhood was built between the 1960s and the 1980s. Today, many homes have been renovated and expanded. The residents of this neighborhood often stay in their homes for decades, if not forever.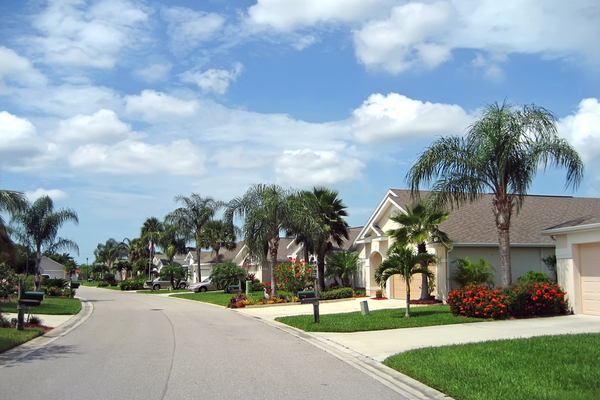 The neighborhood is surrounded by natural beauty and a scenic atmosphere. Coming into the neighborhood, you pass the Tree Tunnel. As mentioned above, this was once the Baars' driveway. However, today, it's a beautiful entrance into the neighborhood. When driving down the street surrounded by trees, you feel as though you are entering a new world.
The Cordova Park Schools
Although this is a family-friendly area, perfect for a family with children, there is only one school within the lines of the neighborhood. Cordova Elementary School, however, is a great school to have your children grow up in. Walking distant from the residential area, your kids will always be right down the street. Cordova Elementary was ranked 87% in the Florida state percentile in 2019 and 284th out of the 2,182 Florida elementary schools. Since it is a small community, there are 628 students, which gives your child the opportunity to have more attention given to them while learning.
What About Restaurants and Shopping Centers?
Cordova Park is mainly a residential area. With that being said, there are no places to shop or eat in the neighborhood itself. To find a shopping center, you must drive to the surrounding areas. However, just a five-minute drive away is a Tom Thumb grocery store. Additionally, down Bayou Boulevard, which is a street right in the middle of the neighborhood, are several restaurants.
It takes under 10 minutes to drive to the Cordova Mall, Publix Super Market, Lowe's and several fast-food restaurants. So, when you live in Cordova Park, you will have no problem with access to restaurants and shopping centers.
How Do Most Cordova Park Residents Spend Their Time?
The residents of Cordova Park tend to spend their time outdoors. There are a total of four parks within Cordova Park, with Baars Park being the largest. You will always find runners, walkers and bicyclists in the area. This is due to the trails and shade offered by the tall trees. Parks that have a playground are Pintado Park, Dunwody Park and Miralla Park. All of these also include softball fields and basketball courts that are open for sports practices or just for fun.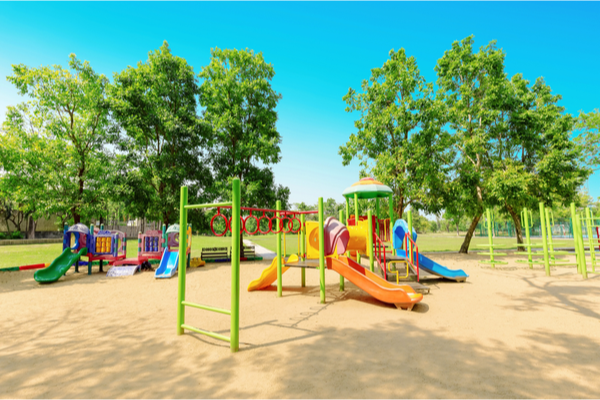 People also visit the Roger Scott Athletic Complex which has a community pool and fields for baseball and softball. The pool has water slides and spray features. It costs just three dollars for children and four dollars for adults. This makes it the perfect activity for a hot Pensacola summer afternoon.
Also across the street from the Cordova Park neighborhood is the Vikrey Resource Center. This center has an indoor gym that costs Pensacola residents $35 per month. Considering it's just a short walk away from the Cordova Park neighborhood, it's a great option for being active before and after work. They also have after school programs, which serves kids from the Cordova Park Elementary school and provide transportation. Both of these amenities are just across Summit Boulevard. This street has many crosswalks from the Cordova Park neighborhood so your family can safely walk to these fields.
Cordova Park Homes
The homes in Cordova Park are on the larger end for most neighborhoods in Pensacola. Most homes sell for around $200,000 in the neighborhood. However, some renovated homes sell for about $400,000. This means no matter your budget, you can likely find a home in this neighborhood.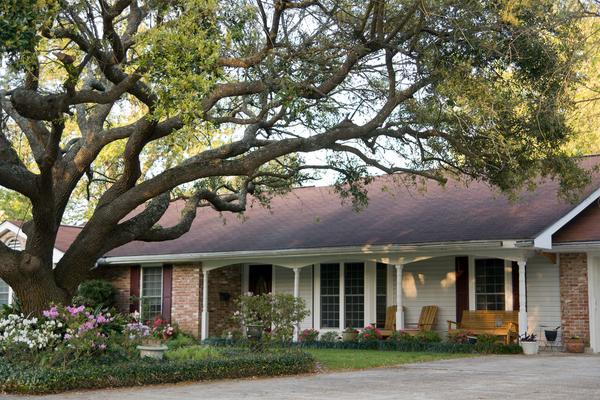 The houses in Cordova Park are built large, elegant and suburban. Ninety-nine percent of those homes are ranch-style. Here are characteristics of what a ranch-style home consists of.
Single story
Open concept floorplan
Rectangular "U" or "L" shaped
Devoted patio or deck space
Large windows & sliding glass doors
Low-pitched roofline with wide eaves
Often includes a finished basement
Often features an attached garage
Simple and/or rustic interior and exterior trim
Living areas separate from the bedroom area
Exteriors of stucco, brick, wood and glass
Aluminum windows (usually replaced), popular in the 1950s and 1960s
The geographical boundaries of Cordova Park begin where the 12th Ave bridge over Bayou Texar ends. All points east/southeast skirting the bayou to Baldwin Ave. The northern boundary is Summit Blvd which meets Firestone Blvd. There are approximately 1,300 homes within this area and are mostly one-story homes.
Ready to Move to Cordova Park?
If you're thinking about settling down in a small, friendly, quiet neighborhood, Cordova Park is the place for you. Come visit today and see for yourself the wonders it brings!
When you are ready to move to Cordova Park, or any other neighborhood in northwest Pensacola, our team can help. Our real estate agents are experts in the Pensacola neighborhoods. So, let us represent you in your real estate transaction! Contact us today.