How To Sell Your House in the Fall
Posted by Erik Hansen on Thursday, September 30, 2021 at 11:11 AM
By Erik Hansen / September 30, 2021
Comment
If you intend to enter the real estate market as a seller, you will need to know all the potential benefits and pitfalls that come with selling a house. In particular, confirming when you would like to sell your home is an important decision to make. If you choose to sell your home in the fall season, then certain preparations will need to be made to accommodate the months where the weather typically gets colder. Depending on where you live, the fall real estate market can either be very pleasant or more challenging than usual.
Benefits of Selling Your House in the Fall
There are pros and cons to selling your home in the fall season. Depending on what you are looking for as a seller, the fall season could be the ideal time to sell your home. The following benefits highlight how you stand to gain from a sale in the fall season.
Changes in the Seasonal Weather
The summer months are known to get very hot while the winter months are famous for being extremely cold. The fall season is ideal for positive changes in the weather as it will significantly cool down from the summer heat, but not so much that it becomes like the cold of winter. In the fall temperatures are generally good enough for potential buyers to inspect the property, and they will be given more access to the road since ice and snow won't be covering them. As a seller, you have time to make key adjustments to your property before you are ready to make a sale.
Selling Right Before the Holidays
A major benefit to selling your home in the fall is that it will start the process for a potential buyer, and that buyer will make preparations to be in their new home by the holiday season. If you are able to close on a deal in the fall, it will make the process easier for the buyer to transition into the winter holidays. It is not ideal to sell a home in the winter because people are generally too focused on celebrating the holidays.
Serious Buyers Will Emerge
Many buyers are out on the hunt for homes in the spring, but plenty of them may wait before making any offers. There are more houses to choose from in the spring, so buyers can afford to weigh their options and extend their search by months. However, when September arrives, the more serious buyers will feel compelled to make their move before the holiday season starts or before bad weather arrives. The more serious buyers are most likely to reach an agreement with you for a sale in the fall because they know the clock is ticking for the year.
Smaller Seller's Market
You will be glad to know that while the amount of potential buyers will decrease in the fall housing market, so too will the number of sellers that have the same mindset as you. Many sellers opt to close on a deal before September, so you will be competing in a much smaller market as a result. If the seller's market is smaller when fall begins, you will stand a better chance of your house getting noticed by potential buyers.
Better Variety of Buyer Demographics
Families are more likely to make their move in the spring and buy a new home. In comparison, millennials are more likely to wait until later in the year to make their move. Employers who need to relocate their workers also wait until the fall season to make their move. This is done to avoid higher real estate rates that occur during the spring. Most of these workers are typically out-of-towners who prefer to get through the process in a quick fashion. This could mean a fairly fast closing on a sale.
Improved Flexibility
Spring and summer provide a much-needed breather from the harsh cold of winter, depending on where you live. When assessing the condition of your house after the winter, you will most likely have to make improvements to your home if you want to sell it.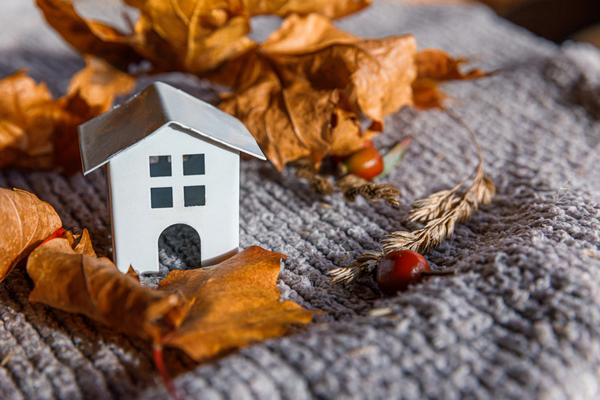 How to Sell Your House in the Fall
1) Keep Your Home Clean
Throughout the entire year, it is important to keep your house clean, but there are a few additional things to be aware of when making a sale in the fall season. For starters, leaves must be cleaned up as much as possible. Alongside your yard, make sure that the walkways and gutters are cleared of leaves and debris.
Maintain a regular lawn mowing schedule so that your yard doesn't look shabby. Any dead plants and bushes in the landscaping need to be cleaned up as well. Porches, patios, and decks need to be washed down and windows need to be wiped down to have that clean look. Also, ensure that there is a doormat so visitors can wipe their feet should it rain. Lastly, get rid of all clutter that can potentially hinder the movement of potential buyers in the home.
2) Correctly Price Your Home
In terms of finances, correctly pricing your home is one of the most important things to do before selling it. Fall is still a relatively busy season in real estate, whereas winter is nowhere near as busy. Overpricing your home will force you to wait longer than you would like to in order to close on a deal. Most likely you will have to lower your selling price should you start playing the waiting game. If you price your home right in the beginning you will get more showings for your property, and you will sell faster. A property that sits long on the market, especially if it lasts into the winter season, will develop a stigma, which will make it a harder sell for potential buyers.
3) Make Your House Appealing
Keeping it clean is one important factor in selling it, but oftentimes adding appropriate bells and whistles to your home makes up another important factor. For example, if your house's exterior lacks something appealing, you should consider painting it a vibrant color, planting seasonal flowers along its edges, or placing full-grown pumpkins along a single line on the walkway to give your home a cozy feeling. Some potential buyers can and will instantly judge the condition of your home, so it is your responsibility to make sure that they have a positive feeling about it. There is no need to go over the top with fall decorations, but some displays like a front door wreath, and special lighting so buyers can see how to get to the front door can maintain a fresh feel for your home.
4) Maintain the Home's Cozy Feeling
Entering a cold house is an instant turn-off for most buyers. Instead, set the thermostat at a comfortable temperature to warm it up so that buyers will feel welcome touring your home. Light is another good way to warm up a home, especially when approaching the winter season. Blinds and curtains should be opened so that enough light will illuminate the interior of your home.
The key thing to remember here is that potential buyers want to picture themselves living in your house. Create as many cozy spaces for buyers as possible in your home, so this could involve adding fall-colored throw blankets and pillows to a chair or couch and implementing fall-themed aromas to give off a pleasant smell.
5) Promote Seasonal Advantages
What do you appreciate most about your home in the fall season? Whatever advantages your home has during the fall, promote them as much as you can. If it is cold enough, put the fireplace on or at least have it clean with logs in place ready for a fire. If you have a playroom keep it clean and organized so that it reveals a great space for indoor activity during the colder months of the year.
Basement family rooms and theater rooms have to be positively showcased in the fall season because they will often be used at this time. Do you have a beautiful tree outside that develops amazing fall colors in its leaves? Open the blinds and curtains to showcase that from inside the home. Sometimes it can be the little things that will carry you to a successful sale.
6) Be Flexible
Whenever you decide to sell your house, it always helps to be flexible in how you prepare your home for a sale. The spring and summer seasons can serve as much-needed breaks from the brutal winter, and when it is pleasant in the year you will most likely have to make important repairs to your home. Make repairs and small renovations when you absolutely need to. In the fall season there are fewer hours of daylight to work with, so knowing this you may need to schedule showings of your home later on in the evening. Also, remember to be flexible for closing and moving dates because it will make the entire process easier for all involved parties.
Want to Sell Your Home in the Fall?
The reasons why it would be best to sell your home during the fall season are many, including the ones we have just described. The fall season may be the only part of the year where you get a real break from your typical daily grind of life. If this is your case, then embracing all the benefits of the fall season would be the wise thing to do. The real estate market works just as well in the fall as it does in the spring and summer, so why not sell your home in the fall?