Living in Fort Walton
Posted by Erik Hansen on Sunday, October 31, 2021 at 11:11 AM
By Erik Hansen / October 31, 2021
Comment
Located along the eastern portion of the Florida Panhandle is the special city of Fort Walton. Fort Walton is nestled in Okaloosa County, south of Crestview, east of Navarre, and west of Niceville and Destin.
On its surface, Fort Walton seems ideal for those interested in aircrafts, aviation, and beach-living. While true, you'll be surprised to learn that Fort Walton is ideal for an even wider crowd. Welcoming and affordable for families of all kinds and sizes, Fort Walton is an ideal place for settling and vacationing.
Read on to learn more about what makes Fort Walton a unique and desirable place to live.
Employment Opportunities
Fort Walton offers countless employment opportunities in Fort Walton. The majority of professionals in Fort Walton are employed within the military, educational, medical, and public sectors. A smaller, but still significant, portion of the professional population works in retail and technology.

The United States Airforce is the main military presence in Fort Walton. Military professionals either work at Eglin Air Force Base or Hurlburt Field.
The largest educational employers in the area are the Okaloosa County School District, Northwest Florida State College, University of West Florida, and Troy University.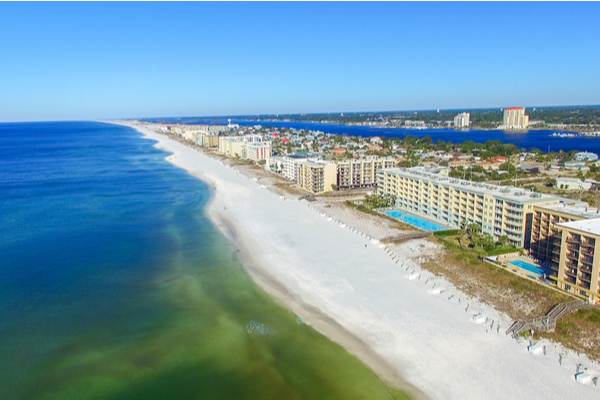 Okaloosa County offers plentiful public employment opportunities across several departments. The most popular departments are the Tourism, Airport, Public Safety, Water and Sewer, and Veteran Services.
Following the military, educational, and public employers in Fort Walton is the Fort Walton Beach Medical Center. They offer a variety of general and specialized medical services. There is always ongoing opportunity for travel medical professionals.
Fort Walton's private employment industry is driven by retailers that cater to tourist and restaurant services, as well as general and defensive technology companies.
Popular retail services include shopping centers, beauty and salon services. Popular service employment opportunities include private rideshare drivers, delivery drivers, and all restaurant and bartending positions. Most locals working retail and service jobs live in Fort Walton and commute to Destin.
Cost of Living
Fort Walton is a generally affordable place to live, with a standard cost of living slightly below the US national average.
Compared to its touristy counterpart Destin, Fort Walton is a lively city that shares the same perks and benefits of a bustling tourist destination with a more affordable standard of living.
Fort Walton has a variety of beautiful, modern rental and housing opportunities that are below state and national averages. Most two and three bedroom apartments rent around the $1,000 - $2000 price range, while most 2 - 3 bedroom homes sell for $230,000 and up. It is an excellent place for long and short-term living. It is also an ideal place for vacation and rental property investments.
Demographics and Diversity
If Fort Walton could be summed up with one phrase, it would be, "Live, laugh, and love the beach."
Based on a Niche poll, the locals describe the area as diverse, kind, and neighborly. Fort-Walton residents give the city a tight-knit and supportive community feel. Residents are accepting and supportive of diverse initiatives and are welcoming towards all LGBT+ communities.
Fort Walton's large presence of families contributes to its close community feel. About half of all Fort Walton households are families with children. There are countless family-oriented amenities like great schools, public recreation, health and safety initiatives, and nearby shopping to keep families happy and healthy.
Locals report Fort Walton's ethnic makeup is rapidly changing thanks to the military presence and its sister city relationship with Quezon City, Philippines.
Most people in the area pursue higher education in varying capacities. The median individual and household incomes are within the $40,000 range.
The Fort Walton Lifestyle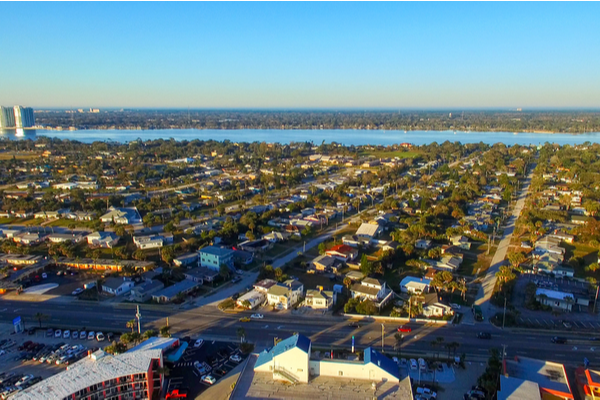 Locals tout Fort Walton as a fun, relaxing, and easy-going gem of a city. The area boasts some of the most understated beaches in the Florida Panhandle area. Fort Walton has a fun and beautiful downtown, spacious suburbs, and mild tropical weather all year long.
Weather
If you enjoy the outdoors, Fort Walton may suit you perfectly. The weather in Fort Walton hardly ever dips below 45°F or rises above 90°F. The tropical climate welcomes frequent rains that clean the air and keep locals cool. Fort Walton's general humidity helps residents maintain glowing, refreshed, and healthy skin.
Crime and Safety
Fort Walton earns an average safety score compared to national crime and safety statistics. Families, as well as single and senior residents feel free and safe to live their lives without worry or interference.
Fort Walton Schools
Fort Walton is plentiful with excellent schooling options to suit your family needs. All schools, including public, private, and chartered options, are well-staffed, resourced, and funded. The city also has a number of extracurricular and specialty schools such as the Liza Jackson Preparatory School, Okaloosa STEM Center, and Northwest Florida Ballet Academie.
Public Recreation
There is much to do in Fort Walton outside of its frequent festivals and events. The Fort Walton Beach public recreation center maintains inviting sport courts, exercise and dance studios, game and TV rooms.
The recreation center also offers countless community academic and exercise classes. There are also senior care centers, preschool rooms, and after school care programs.
Outside of the recreation center are an array of beautiful, spacious, and intriguing parks, beaches, and museums.
Head to any one of the city's manicured parks to enjoy walking paths, playgrounds and tot lots, sports complexes and fields, fishing ponds, picnic areas, and more.
Visit museums like the Heritage Park and Cultural Center, Indian Temple Mound, Emerald Coast Science Center, or the Airforce Armament.
When you're through, go to the Fort Walton Beach coast to enjoy the sun, sand, breeze, and fishing any time of the day.
Nightlife and Events
Fort Walton is always vibrant and alive with local events and entertainment.
If you're looking for great places to eat and drink, Fort Walton will satisfy your hunger and quench your thirst. Choose from local favorites like GI Jade Tiki Bar and Bistro, Tapworks, and Salty Duck to catch a game, relish in happy hour specials, or relax the afternoon away.
If you're looking for community entertainment, the city has no shortage of community outreach, fundraising, education, and cultural events. The residents of Fort Walton are always busy supporting the arts, sciences, sport, and youth clubs and more through holiday parties, dances, foodie gatherings, charities, and networking events.

Plus, if you ever find yourself wanting a bit of travel, the neighboring city of Destin is upbeat and busy with tourist activities and novelty restaurants year-round.
Walkability, Commutability, and Transportation in Fort Walton
With a walkability score of 39 and a bikeability score of 47, life in Fort Walton is car-dependent. The roads and distances between the city's recreation and amenities are long and often without bike lanes.
A large number of Fort Walton residents commute to Destin and the coastal areas of the city.
Fortunately, daily and rush hour traffic in Fort Walton is minimal. Traffic in Fort Walton peaks during the summer months when tourists pass through on their way to Destin and further along the Panhandle area.
State Road Access
US 98 runs east to west throughout Florida. Going through Fort Walton, US Route 98 will give you access to the entire Florida Panhandle.
State Roads 189 and 85 run through Fort Walton. State Road 189 runs north and south to give access between Eglin Air Force Base and US Route 98. State Road 85 runs north and south between Fort Walton and the Florida-Alabama state line.
Public and Private Transportation
You can still get around Fort Walton if you don't have a car. The city operates five routes that intersect Fort Walton's retail, medical, educational, and recreational destinations. The city's public transit routes also intersect with transfer stations close to State Road 85 to help locals and visitors reach farther destinations.
Aside from rideshares, there are many private modes of transportation to choose from. The EC Rider is a bus system that can transport you throughout Fort Walton and Okaloosa County. Fly VPS hosts a directory of bus, shuttle, taxi, limo services, and more to help you get to and from the Destin-Fort Walton Beach Airport and beyond.
Fort Walton Public Amenities
Backing up it's close-knit feel are Fort Walton's supportive community services. There is help and opportunity all around, whether you are in need or looking to give back to your community.

Check out the city's Chamber of Commerce website to seek help from or get involved in community maker spaces, Rotary Clubs, crisis centers, senior care, volunteer, or financial help services.
The Journey Doesn't End Here
Fort Walton is more than a warm, tropical beach. It is a city filled with caring residents whose kindness keeps the atmosphere warm, the streets clean and lively, and the atmosphere relaxed. You can see it everywhere you go--from the pristine parks, manicured beaches, clean public transit, and beyond.
If you're considering visiting or moving to Fort Walton, now is your time. Contact the Hansen Team today to learn more information today.