Living in Navarre
Posted by Erik Hansen on Friday, October 15, 2021 at 11:11 AM
By Erik Hansen / October 15, 2021
Comment
Located towards the easternmost portion of the Florida Panhandle is the one-of-a-kind coastal city of Navarre. Navarre shares borders with sunny Pensacola to its east, tight-knit Fort Walton in the west, and family-friendly Milton in the north.
Navarre is a lovely city in Santa Rosa County that overlooks the Gulf of Mexico. It is respected by environmentalists, adored by nature lovers, and appreciated by foodies.
If you've been considering the idea of moving to Navarre, this article is for you. Read on to learn more about what makes Navarre an attractive place for living, investing, and vacationing.
Employment Opportunities
Like many other cities across the panhandle, Navarre's economy is driven by the military, education, medicine, technology, and tourism. And if you prefer to work separately from where you live, you are in good company. The majority of Navarre residents work outside of the city, preferring to travel to Milton, Pensacola, and the surrounding areas.
The military is embedded throughout the Florida Panhandle, and Navarre is no exception. The Air Force is the largest military employer in the local area. There is Hurlburt Field and Eglin Air Force Base. Both locations are west of Navarre toward Fort Walton and Shalimar.
The major educational employers in the area work in public and higher education University professionals are split up in the area work at University of West Florida and Pensacola State College. Professionals in the public center work are employed by the highly regarded Santa Rosa School District.
There are a few large and interesting technology and software firms in the area. Aside from Apple, there is Patni Computer Systems and Torch Technologies. Patni Computer Systems outsources software tasks for small and enterprise companies. Torch Technologies focuses on providing defense solutions for public and private entities.
Cost of Living
One of the things that makes Navarre such an ideal and desirable place is its affordability. Considering its proximity to Pensacola and Destin, not many expect Navarre to be a happy medium between cost and standard of living.
Navarre's cost of living wavers between on par and above the average US cost of living. Out-of-state transplants are often amazed by how much natural, real estate, community, and entertainment value is packed into a town like Navarre.
Navarre has all kinds of housing options available for short-term living, long-term rentals and housing, senior care, and vacationing. Apartments and townhomes with 2 - 3 bedrooms typically rent for $1300 - $1500, while 2 - 3 bedrooms homes sell for $300,000 and up. You can also rent 2 - 3 bedroom homes with yards in Navarre for $2,000 and up.
As Navarre gains popularity among transplants, the housing and rental market becomes more competitive each day. Be sure to contact the local team at Hansen to find a house, apartment, townhome, or condo that suits your lifestyle before it's too late!
Demographics and Diversity
Navarre's population is exploding, and with good reason, too. Recently named one of the best places to live in the US, Navarre proudly maintains a small, local feel amidst its rise in population.
The area has a conservative history and political preference. Still, the locals are accepting of other affiliations and ideologies. According to Niche, Navarre is rated the third most diverse place to live in Santa Rosa County.
Navarre is a popular choice for young professionals and families alike. Most residents of Navarre pursue higher education. The area offers many opportunities for professional growth and career advancement with the nearby prestigious colleges and universities.
The Navarre Lifestyle
Locals sweat Navarre is Florida's best kept secret. With miles of natural beaches, amazing local cuisines, and all kinds of entertainment, it's no wonder. Keep reading to see why locals stay and transplants never leave Navarre.
Weather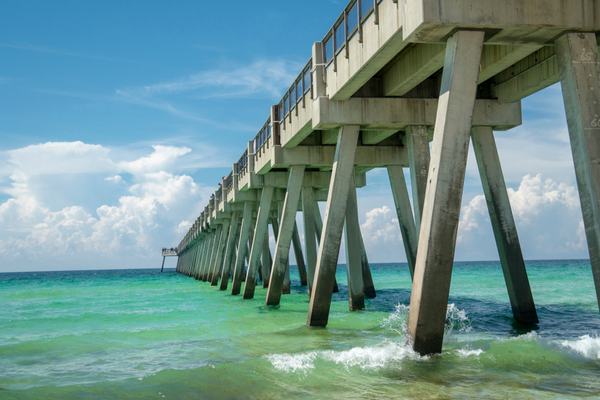 Navarre has beautiful weather all year long. The city enjoys temperate tropical weather all year long. The weather in Navarre rarely drops below 40°F, nor rises above 90°F. Because of its location facing the Gulf of Mexico, it is a hurricane-prone area. Fortunately, the city and locals are always steadfast and prepared for emergencies.
Crime and Safety
Navarre is a relatively safe and comfortable place to live. Due to its proximity to tourist destinations and military locations, it is a well-regulated area. Local law enforcement officers maintain stringent road safety protocols to ensure safe travels for anyone journeying to the area.
Navarre Schools
Navarre has an excellent school district supported by a respected staff, involved parents, and driven students. Residents admit they feel spoiled by the public school options. In addition to impressive school-wide test scores and performance, almost all of the schools within Navarre are top-rated among parents, staff, and children.
Recreation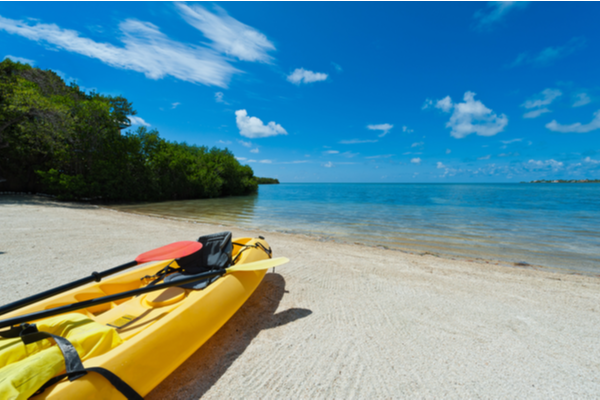 Navarre offers entertainment that is fun, educational, and thrilling for people of all ages. Before you even get to the beach, check out the Adventures Unlimited Outdoor Center for ziplining, kayaking, canoeing, and more. Visit the Emerald Coast Wildlife Refuge to learn about the diverse creatures of the Navarre coast. Don't forget to partake in community-minded environmental workshops.
Explore downtown Navarre on any weeknight to discover local food vendors and restaurant favorites like Shark Bite food truck and Scooter's Fish House.
If you want to take the whole family out for fun, head to the Gulf Breeze Zoo to experience a personal encounter with hippos, giraffes, sloths, and galapagos.
Navarre Beach and Santa Rosa Sound
Navarre's beach is prime for relaxing, fishing, and water sports. And thanks to its emphasis on environmental conversation, there is a variety of ocean wildlife to appreciate.
If you love fishing, Navarre is your go-to city. Navarre Beach is home to the longest fishing pier in Florida. You can also try fishing and kayaking in the Santa Rosa Sound, a pristine and peaceful body of water between Navarre and Santa Rosa Island.
You can also spend time at the Navarre Beach Marine Sanctuary Sea Turtle Conservation Center to learn how you can contribute to a cause to protect Floridian marine wildlife.
Nightlife and Events
Although close to the vibrant Pensacola, Navarre has no shortage of community events and happenings. Get comfortable and cozy working a kiln within the city's tight-knit pottery community, or take part in an annual festival like the Lumberjack festival or Military Appreciation Picnic.
For nightlife and entertainment, any one of Navarre's bars and restaurants is sure to please. Local and tourist favorites include Juana's Pagodas and Sailors Bar and Grill and Johnny Hustons. Try the fish tacos at Juana's or a Bangin' Shrimp Wrap at Johnny's!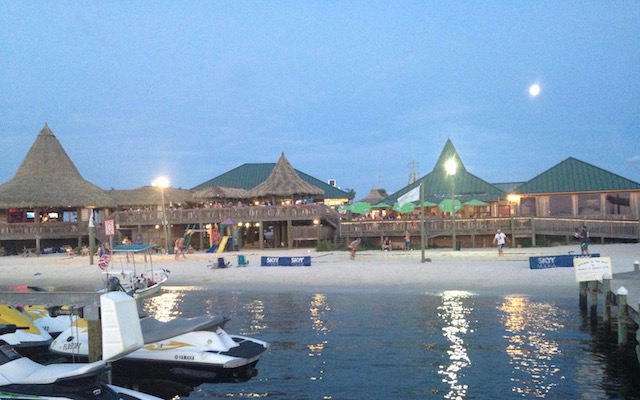 And if residents or tourists feel the need to wander out of town, they simply head east to Pensacola or west to Destin to satisfy their travel bug.
Getting Around in Navarre
With a walkability score of 13 and a bike score of 37, life in Navarre is car-dependent. The roads and distances between the city's recreation and amenities are long and often without bike lanes.
A large number of Navarre residents commute to Pensacola and Milton for work. and the coastal Fortunately, daily and rush hour traffic in Navarre is minimal. Traffic in Navarre peaks during the summer months when tourists pass through on their way to Pensacola and Destin.
You can get around without a car if you buy or rent a golf cart, a popular mode of transportation in this easy-going area.
If you do have a car, know that US Highway 98 runs east to west throughout Florida and right through Navarre. The highway gives locals and travelers easy access across the entire Florida Panhandle.
Public and Private Transportation
You can still get around Navarre if you don't have a car. The city is stocked with public and private modes of transportation to help locals and visitors get to where they need to go.
A popular favorite are street legal scooters. The city is teeming with rentable scooters that you ride and drop off at your convenience. They are also an amazing way to connect with the nature of the city and the beaches of Navarre!
For special event travel, contact Navarre's Sunshine Shuttle, a local favorite for casual, luxury, and on-demand transportation.
Aside from rideshares, there are many private modes of transportation to choose from. Fly VPS hosts a directory of bus, shuttle, taxi, limo services, and more to help you get to and from the Destin-Fort Walton Beach Airport and beyond. You can also check out this directory for Navarre-specific private transportation services.
Never Say Never in Navarre
Navarre is more than a historic film site for Jaws 2 (but if you want to talk about it, the locals are always proud to regale the cinematic history over a drink at Ye Olde Brothers Brewery).
It is a city filled with lively residents whose sense of adventure maintains a spirited atmosphere. Navarre is a community-minded town filled with considerate people who care about wildlife, nature, and the environment. There's not an ounce of boring, nor is there ever a dull moment in Navarre, Florida.
If you're considering visiting or moving to Navarre, now is your time. Contact the Hansen Team today to learn more information today.